INTERIOR DESIGN
We develop high resolulution photorealistic Renderings with extreme attention to details.
LUXURY DETAILS
Incredible care to details
PHOTOREALITIC QUALITY
We provide the best solution for our clients using always the best technologies.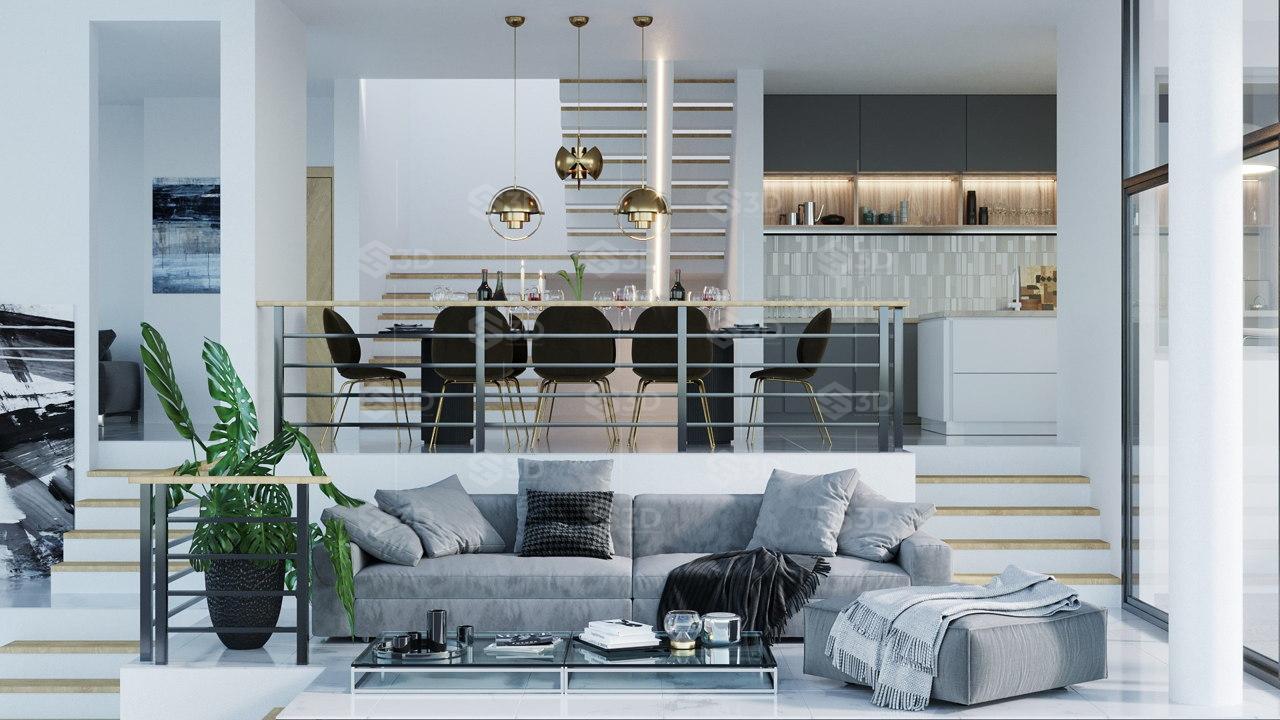 3D rendering & Interior Design
Exquisite Interior Design with Crazy 3D Rendering
At Crazy 3D Rendering, we leverage our profound understanding of technology and top-tier software to curate your ideal home or workplace interior. Our exceptionally skilled and versatile interior designers work intimately with you to forge a space that is not just aesthetically pleasing but also highly functional and practical.
In collaboration with your ideas and style, we shape rooms or entire properties that are truly distinctive and reflective of your personal tastes. Whether working with developers, real estate agents or private individuals, our goal is to breathe life into your dreams and create interior spaces that inspire.
Phenomenal Photorealistic Renderings
Fuelled by our ardour for technology, Crazy 3D Rendering employs photorealistic renderings to generate extraordinarily precise computer models and imagery, accurately recreating how a property will appear. Our designers utilize these 3D designs to construct precise simulations that depict light reflections at different times of the day, enabling us to design rooms that optimise ergonomic comfort.
We understand and cater to the diverse preferences of our clients; some may favour a warm, homely finish while others lean towards a more minimalist aesthetic. We strive to maximise natural light as much as possible, while also understanding the importance of keeping rooms cool during the summer months. Whether your preference is traditional or contemporary, we are committed to creating and refining designs to ensure your complete satisfaction.
Utilising only innovative Software in the Market
We stand by the principle of utilising the most innovative technology and leading the charge in its evolution. Our teams regularly engage in training and are always enthusiastic to test new software that can amplify the quality of our exceptional services. Our flexible and open-minded approach ensures we consistently deliver excellence and professionalism in every project.
Among the cutting-edge tools we use is Unreal Engine, a state-of-the-art software that allows us to create stunningly realistic and immersive 3D renderings. With Unreal Engine, we can design a full representation of your interior space that you can navigate as if you were physically there. This offers a unique, interactive experience that allows you to truly feel and understand the space, providing invaluable insights for refining the design before any construction begins. This approach aligns with our commitment to ensure that our designs are not only aesthetically pleasing but also practical and efficient.
Crafting Interiors Based on Your Vision
Naturally, our ultimate goal is to create interiors that encapsulate your desires. We work closely with our clients at every stage of the design process, basing all of our designs on your specifications. While we are guided by your requests, our designers are always ready to offer suggestions and recommendations to further enhance your ideas and create a space that truly resonates with you.
Incorporating Realistic Furniture in Our Renderings
One of the unique offerings at Crazy 3D Rendering is our ability to incorporate realistic furniture into our renderings. By working with real furniture shops, we are able to insert accurate, high-quality 3D models of actual furniture pieces into our designs. This not only adds an extra layer of realism to our renderings but also allows you to see exactly how various furniture options would look in your space, helping you to make informed design decisions. With this innovative approach, you can truly visualize and experience your finished interior before any physical work begins.
We can start the design by a floor plan, a drowing or a standard Sketchup plan provided.
We are professional 3D renders with the following softwares: