Full development for a villa design project in Rawai Phuket
SERGO VILLA PROJECT DESIGN
This concept is for sale and can't be used without an agreement
Photorealistic Renderings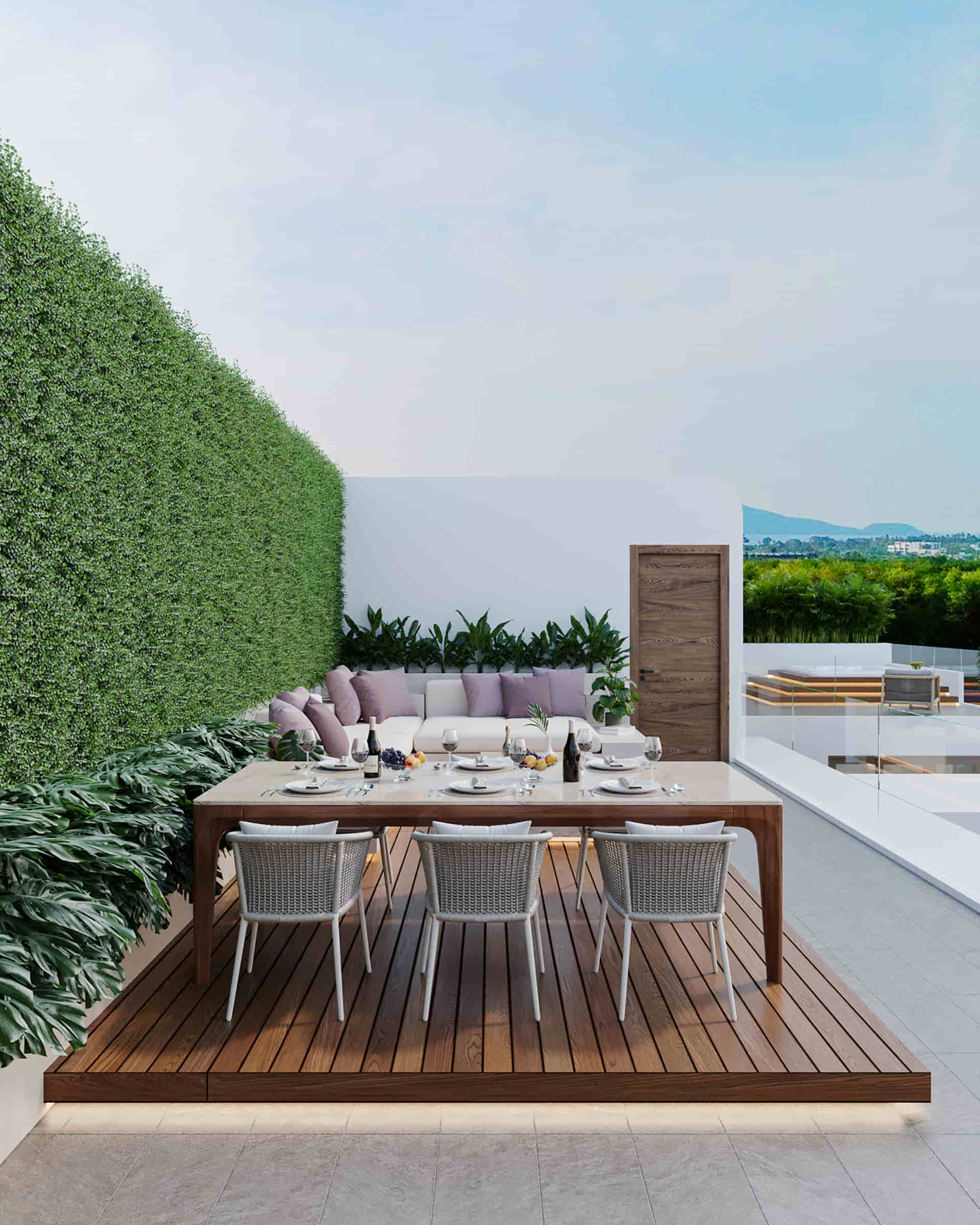 Full Concept Villa Design Project
Introducing Sergo Estate, a distinct villa project design nestled in the serene heart of Rawai, Phuket. This exceptional venture, a brainchild of Crazy 3D Rendering, offers an exclusive opportunity to own a bespoke villa, meticulously crafted in one of Thailand's prime locations.
Nestled amidst Rawai's picturesque beauty, known for its pristine beaches and mouth-watering seafood, Sergo Estate serves as an idyllic sanctuary for those seeking calm and indulgence. Imagine the pleasure of waking up to awe-inspiring ocean views and having access to the freshest seafood within walking distance. This villa project design creates a tropical paradise where the usual humdrum of life fades away, opening up a world of relaxation and leisure.
Our villa project design at Sergo Estate, conceived by the talented team at Crazy 3D Rendering, caters to a variety of lifestyles and preferences. With four to five bedroom configurations, each villa exemplifies a harmonious blend of modern aesthetics and comfort. The chic interplay of white and brown hues imparts a timeless elegance, while the large windows usher in a bounty of natural light, seamlessly fusing indoor and outdoor living spaces.
Stepping into the villas, you are welcomed by trendy furnishings that emanate a contemporary sophistication. Each nook and corner has been intentionally designed to create a refined and tranquil ambiance. The master bedroom, situated on the second floor, is equipped with a private Jacuzzi, offering a serene spot to unwind while absorbing the extraordinary vistas. The allure is further accentuated by the roof terrace, offering an exclusive viewpoint to marvel at the sea and soak in the tropical vibes.
Each villa of this project design comes with a private swimming pool, bordered by a deck area ideal for soaking up the sun or relaxing under the shade of the gazebo. Soak in the tranquility of your surroundings as you revel in the luxury of your personal haven.
Our villa project design, Sergo Estate, envisioned and realized by Crazy 3D Rendering, is tucked away in a secluded area, ensuring maximum peace and exclusivity. A dedicated road leads to the estate, striking the perfect balance between solitude and accessibility to nearby attractions and amenities.
In bringing Sergo Estate to life, our team at Crazy 3D Rendering leveraged the advanced capabilities of 3DS Max and Corona Render. These high-tech software tools enabled us to develop highly detailed and photorealistic models of the villas, capturing the intricate details of the design and ensuring perfection at every step prior to the construction phase. We also employed drone technology to capture a comprehensive view of the project, providing a unique perspective on how the villas integrate with their natural surroundings and ensuring the project's alignment with the overall vision.
We also developed with Crazy Web Studio a full website design,  Check the website at this link: www.sergoestate.com
Video Animation in Unreal Engine
Photorealistic Rendering Gallery